Ray Cook on March 31st, 2012
H/T Barry Shaw
I don't read the Guardian. I used to when it was a decent newspaper.
However…
when I was alerted to this letter
http://www.guardian.co.uk/world/2012/mar/29/dismay-globe-invitation-israeli-theatre?newsfeed=true
(no,  I am not going to give them the benefit of a link even from my modest website – on principal)
I was outraged at the list of people, who claim to be artists, that are objecting to the appearance of Israeli theatre group Habima at the Globe.
The reason is that this company has performed at and co-operated with 'halls of culture' in Israeli 'settlements'.
Here are these morally outraged Thespian signatories so YOU know who to boycott in the future:
David Aukin producer
Poppy Burton-Morgan artistic director, Metta Theatre
Leo Butler playwright
Niall Buggy actor
David Calder actor
Jonathan Chadwick director
Caryl Churchill playwright
Michael Darlow writer, director
John Graham Davies actor, writer
Trevor Griffiths playwright
Annie Firbank actor
Paul Freeman actor
Matyelok Gibbs actor
Tony Graham director
Janet Henfrey actor
James Ivens artistic director, Flood Theatre
Andrew Jarvis actor, director, teacher
Neville Jason actor
Ursula Jones actor
Professor Adah Kay academic, playwright
Mike Leigh film-maker, dramatist
Sonja Linden playwright, iceandfire theatre
Roger Lloyd Pack actor
Cherie Lunghi actor
Miriam Margolyes actor
Kika Markham actor
Jonathan Miller director, author and broadcaster
Frances Rifkin director
Mark Rylance actor
Alexei Sayle comedian, writer
Farhana Sheikh writer
Emma Thompson actor, screenwriter
Andy de la Tour actor, director
Harriet Walter actor
Hilary Westlake director
Richard Wilson actor, director
Susan Wooldridge actor, writer
I'm sure, like me, you have admired many of these names for years.
I would hazard a guess that very few of them know the history of the conflict and have accepted the narrative of 'Occupation' and 'colonialism'.
How many of them have ever protested about anything else?
How many of them know that although settlements are illegal under certain interpretations of international law there is no 'Occupation' in any legal sense and there has never been any legal ruling that Israel is an occupier.  And before you knee-jerk, just check. Here's a useful link for the sceptics
Maybe American actors should be boycotted and made pariahs because of Guantanamo or Iraq?
It's only ever Israel and the 'Occupation' which gets these people frothing at the mouth and hearts bleeding.
But, you see, this is the Left's favourite cause. The Lord forfend that they should be tainted by association with Israeli actors who have committed the terrible crime of setting foot in a 'settlement'.
"The villainy you teach me, I will execute, and it shall go hard but I will better the instruction."
As individuals they are entitled not to go to see Habima.
As indivduals we are entitled to never watch any film, play or documentary any of these people appear in.
Keep the list handy.
Continue reading about Left-wing luvvies gang up on Israeli artists
4 Responses to "Left-wing luvvies gang up on Israeli artists"
Click here to add your comment
Ray Cook on March 28th, 2012
Forget Beinart, forget BDS. UK trade with Israel is up 34% on last year.
Get out and buy Israeli goods. You've no excuse. Loads of Passover stuff comes from Israel.
If you don't celebrate Passover, buy anyway!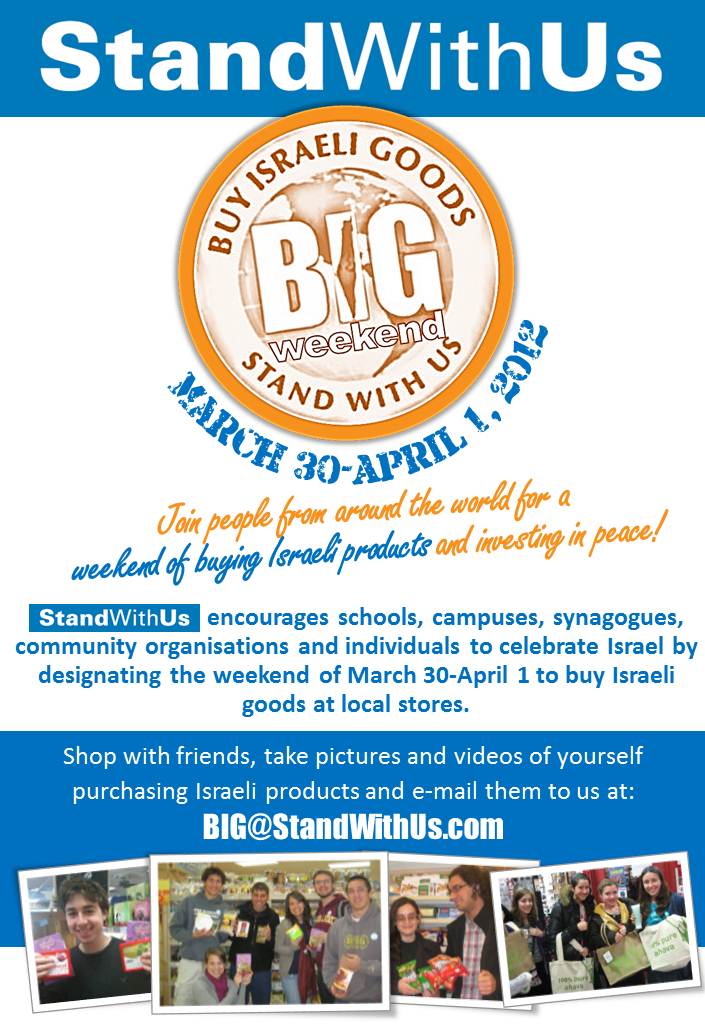 2 Responses to "Buy Israeli Goods"
Click here to add your comment
Ray Cook on March 11th, 2012
The blatant misreporting and misrepresentation of Israel's self-defensive action against rocket fire from Gaza continues to be a national disgrace.
There's something very rotten in the State of the BBC's Middle East desk on its news website.
Only today did the continuing murderous barrage of southern Israel which puts a million lives at risk, not to mention property and treasure, actually make it to the website's home page. Although even that small mention now seems to have disappeared.
And what was the headline to direct us to this sudden escalation in rocket fire from Gaza which has seen over 200 missiles launched since Friday? Was it "Miltitants in Gaza launch rocket barrage against southern Israel'?
Not bloody likely. This is the BBC, remember and they seem only interested, for the sake of balance, of course, to highlight Israel's response in defence of its citizens.
'Israel launches fresh airstrikes on Gaza'
This was the disgusting headline.
"Israeli (sic) says almost 100 rockets fired from Gaza have struck Israel since the exchange of fire began."
Subtle, no? Israel 'says' – after all, you take what Israel 'says' with a strong dose of scepticism, no? And 'since the exchange of fire'. Thus, in a sentence, neutralising and sanitising the assault on Israel and characterising it as morally equivalent that Israel's fire, in response to the rockets, is somehow a justification for the rocket fire from the Gaza side. So, once again,  cause and response are turned on their head.
In fact, the report lies and implies that Israel is responsible for the escalation:
"The latest flare-up began on Friday when an Israeli air strike on a car in Gaza City killed militant commander Zohair al-Qaisi, secretary general of the Popular Resistance Committees (PRC), and two of his associates."
What it does not mention is that al-Qaisi was plotting a terrorist attack. When the British or Americans take out terrorist leaders in Afghanistan that is justified but because the BBC is 'neutral' about the Israel-Palestine conflict and terrorists are 'activists' or 'militants', taking them out is an 'escalation' not a defensive act.
The Arab League, which has proved useless in preventing the horrors in Homs in Syria, characterised the 15 deaths of terrorists and rocket firers as a 'massacre'. I wonder what the minimum number of Palestinians is to be called a 'massacre' ? 5? 10? In Syria it appears to be several hundred. Are innocent Syrian lives worth so much less than Palestinian militants in the debased arithmetic of the Arab world?
And just to show how even-handed the BBC is, what picture do they show us? The school in Beersheva hit by a rocket? No, they show us the results of an airstrike on Rafah where one person was killed.
UN spokesman Richard Miron called the situation in Gaza "very fragile and unsustainable".

"We deplore the fact that civilians are once again paying the price," he said.
I wonder whose civilians he means? Could it be the 1 million Israelis who are indiscriminately targeted by rockets and mortars? Or those in Gaza who are unfortunate enough to pay the price for the actions of groups who care nothing for the safety of their own fellow citizens? Maybe he means both? But I doubt it.
And whilst Israel closes its schools (and it's lucky it did, as one rocket hit a school in Beersheva as I mentioned above) to protect its children, in Gaza, no doubt as has always been the case, schoolyards and hospitals, mosques and residential areas are used as bases for rocket launchers with the callous, deliberate and cynical hope that Israel will strike and injure or kill 'martyrs' and bring opprobrium on itself.
It is instructive to muse what would be the situation if Israel were Syria and Netanyahu Assad. What response would there be to hundreds of rockets aimed at civilians? Israel's restraint is in gross contrast to Assad's brutal massacre of his own people. Indeed, as the rockets rained down, Israel was discussing how to continue to deliver humanitarian aid through its crossings.
Assad, lays a real siege to his own people cutting off electricity and starving the populace whilst Israel feeds its enemies and provides them with the wherewithal to live.
Yet, no doubt, sooner or later, the UN will be stirring itself to condemn Israel for defending itself
Continue reading about BBC, Gaza and continued illegitimate reporting
7 Responses to "BBC, Gaza and continued illegitimate reporting"
Click here to add your comment