Ray Cook on October 2nd, 2012
News this week that Hamas has halved the import of Israeli fruit, because to buy from Israel is to buy from the enemy. This move is part of the 'resistance'. Only apples and bananas are now allowed in by Hamas. They want to cultivate their own fruit industry.
This is fine. It's a great idea to be self-sufficient. But they are not so yet. In the meantime their own people will suffer price hikes and, presumably, as a result, many will go without this essential and important part of their diet.
Hang on a minute. Are we not being constantly told that it is Israel that is causing malnutrition because of the 'blockade'? Is Israel not to blame for the black market in goods including foodstuffs?
But here we have Hamas punishing its own people for ideological reasons.
Of course, it will still be Israel's fault. After all, were there no Zionist entity there would be no need for resistance and the benighted Gazans would have all the oranges and limes they could eat.
It is a shame that the Gazan authorities failed to stop the looting of millions of dollars worth of greenhouses which were actually purchased by American Jews from former Jewish settlers in Gaza. These American Jews then donated the greenhouses to the Palestinians of Gaza. They were all but destroyed in a matter of days in 2005.
And what do we now hear? Another flotilla is on its way from Europe in a further attempt to break the blockade and to keep Gaza in the news whilst Syria burns. Will they be bring fruit (not apples and bananas as they are clearly not yet ideologically tainted enough for Hamas to ban their import from Israel).
Is it not utterly extraordinary that Hamas imports anything at all from the evil Zionist entity? Is it not utterly extraordinary that the genocidal Zionist entity would want to feed the people it is trying to commit genocide against? Those Jews, eh. Anything to make a quick shekel.
But those genocidal Jews are really being outrageously cynical and hypocritical. They are actually saving the lives of Gazan children – for free! Is there no end to the lengths the Jews will go to whitewash their many crimes.

Mohamed and Hadeel (both 12), Hadeel's brother Ahmad (15) and six-month-old Lian all suffer from kidney insufficiency and have been hospitalized for several months at Rambam Medical Center in Haifa. They have been receiving lifesaving therapy while awaiting kidney transplants.
Mahdi Tarabia, head nurse of the Pediatric Nephrology Unit, explained that the treatment they need, peritoneal dialysis, is not available in the West Bank and Gaza, so medical authorities from these areas cooperate with Rambam to save children's lives.
"The hemodialysis treatment that these children were given before their arrival at Rambam was associated with medical complications, resulting in a worsening of their condition and many hospitalizations," he explained.
As opposed to hemodiaysis, where the blood is cleansed via an artificial kidney over the course of several hours a few times per week, in peritoneal dialysis the treatment is given through the abdomen overnight, not interfering with the child's daytime activities. Each of the young patients' families has been trained by Rambam's staff to administer peritoneal dialysis.
The families received the equipment required for this treatment, and the solution used with it, from Teva Pharmaceuticals. The company will arrange to have supplies conveyed through the Erez checkpoint at the border of Israel and Gaza.
The three schoolchildren are soon due to be sent home, while the recently arrived baby still needs time to be stabilized.
Sometimes things are not quite as black and white the Palestinians and the media would like them to be.
Continue reading about Hamas reduces trade with Israel; Israel gives Gazan children free medical treatment
No Responses to "Hamas reduces trade with Israel; Israel gives Gazan children free medical treatment"
Click here to add your comment
Ray Cook on January 11th, 2011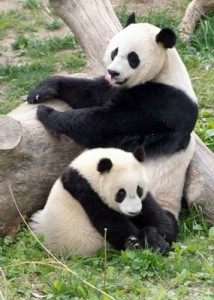 Trade links between the UK and China are very important. Why? Because China is emerging as the superpower and economic giant of the 21st century whilst the United States is in deep financial difficulties.
The Chinese market is huge. EU countries are falling over themselves to make deals with China.
The BBC today announced:
Mr Li, tipped to become China's next premier, has also been pressing to get EU trade bans against China lifted.

The EU has an arms embargo in place that limits high-technology sales to China which could have a dual military use.

…

Elsewhere, BP and the China National Offshore Oil Corp signed a deal on deep-water exploration in the South China Sea, while Jaguar Land Rover committed to sell 40,000 vehicles in China in 2011.

Agreement has also been reached to bring two giant pandas to Edinburgh Zoo, the first to live in the UK for 17 years.
Now hang on. Remember Tibet. Remember the destruction of Tibetan culture and the suppression of its religious and cultural heritage. Remember that Tibet is being swamped with Chinese and that the ethnic and cultural heritage of Tibet is being destroyed. remember that Tibet is more or less closed to the outside world.
The two men had not shirked from discussing "difficult" issues such as human rights, Mr Clegg added, acknowledging that "persistent differences" remained between the countries.
Hmm, Yes. This is the soft pedal approach. Heaven forfend we offend the Chinese by being too heavy-handed. Widening cultural and trade links will hasten democracy.  And Edinburgh zoo gets a breeding pair of Giant Pandas into the bargain.
Personally, I see this as realpolitik. I don't actually blame the UK government for doing this. Maybe this approach will work.
Now look at Cameron on Israel in Turkey last year which I wrote about last year here.
"Humanitarian goods and people must flow in both directions. Gaza can not and must not be allowed to remain a prison camp," he said.
Cameron has no problem dissing Israel to an Islamist regime. Cameron has no problem with saying:
I have. Unlike a lot of politicians from Britain who visit Israel, when I went, I did stand in occupied East Jerusalem and actually referred to it as occupied East Jerusalem. The Foreign Office bod who was with me said, most ministers don't dare say. So, yes, I thought I had quite an argument when I was in Israel with Tzipi Livni about settlements and I think Obama is right to take a robust line. I think we have to but it is depressing how little progress is being made right now.
Yet he is so mealy-mouthed about China.
The sad fact is that foreign policy is not about truth or principles, it's about getting what is best for your country, for the UK. It's about being liked by the nice Americans. It's about showing how important and influential the UK is.
Israel is dispensable. Israel is an easy target. The UK has little to lose by calling East Jerusalem 'occupied' whilst ignoring Tibet's repression and loss of autonomy within China.
I'd like to see Cameron in Taipei criticising China's Tibet policy. I'd like even more for Cameron to go and stand in Lhasa.
In 2008, the Dalai Lama criticised the then Labour government for not speaking out against a "cultural genocide". (See TimesOnline here.)
Mr Brown has been accused of kowtowing to Beijing by refusing to invite the Dalai Lama to Downing Street for formal talks. Instead he will meet the spiritual leader at Lambeth Palace on Friday enabling the Prime Minister to claim that he is receiving the 72-year-old monk in a spiritual rather than political capacity
Successive governments have tip-toed around the Tibet issue so as not to offend almighty, rich, big-spending China.
But Israel gets the big stick. It's small, not as powerful as you have been led to believe, it doesn't spend big in the EU, it cannot harm anyone's economy.
Yet how many academic, trade union, student or cultural boycotts or calls for such have you seen lately?
Maybe we could say that the UK government is panda-ing to the Chinese
Continue reading about Cameron, China, Israel – spot the double standard
No Responses to "Cameron, China, Israel – spot the double standard"
Click here to add your comment