Normally, by now, I am relaxing after a brisk walk to the local shops and reading my Sunday Times.
Recently, I was reading some old diaries and discovered that I was doing the Sunday Times crossword in 1969. I remember well when my association with that newspaper begun. They ran a series on the Kennedy assassination, something that has fascinated me all my life, and it began with that Sunday Times series of articles.
So for more than 40 years, on and off, I have read the Sunday Tomes. I like the News Review where, religiously, I do the crosswords, puzzles, chess problem and even try the bridge problem. It's what Sundays are about.
Every week in the main paper there is a Gerald Scarfe cartoon. These are usually hard-hitting critiques of a political nature.
Last week, as I'm sure we all know by now, Scarfe and the Sunday Times editorial team presented us with this: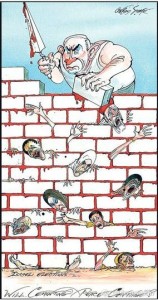 So before I recall all the reaction to this cartoon, let may say that I am only now writing about it because such incidents are sometimes best contemplated once the response and counter-response has taken place because it can be very instructive where Israel and the Jews are concerned.
It took about one second for my first gut reaction. This was not a considered analysis of the politics or the fairness of the cartoon, my initial reaction was: "I think this may be anti-Semitic". I did not say those words to myself. I felt it in my gut. All I could see was the world's most prominent Jew with an evil expression and a sharp implement dripping blood and Palestinians dead or dying. My gut and my Jewish radar told me: "Blood Libel".
Then this was followed by disbelief. Just a minute. This is Gerald Scarfe. He's not anti-Semitic. The Sunday Times is not anti-Semitic. Am I reading this wrong? Am I too sensitive?
Then I read the words at the bottom. "Will cementing peace continue?".  I didn't understand. What was he saying? Is this the separation barrier? Is it a settlement being built? Then my gut reaction to the clear similarity with Nazi Jew-hate propaganda as seen the Der Stuermer, in 19th century Russian images and, sadly, today in the Arab and Iranian press, was reinforced by the unfairness of the cartoon. if this was the separation barrier, then it has saved thousands of lives. If it is a settlement then why show Palestinians being bricked up in it.
Then I realised that this cartoon followed on immediately from David Ward MP's remarks equating Israel with Nazis on the eve of Holocaust Memorial Day. This image, echoing the blood libel and depicting Netanyahu as a murderous demonic figure was a further kick in the gut.
An immediate farrago ensued. What I had not even considered was that last Sunday was Holocaust Memorial Day, the anniversary of the liberation of Auschwitz. This was irrelevant to me. Didn't enter my head when I looked at this cartoon, but, I guess, it was there in the background creating a feeling of general antipathy to Israel which was spilling over into casual and unthinking anti-Semitism.
So, Rupert Murdoch weighed in with an apology. The Board of Deputies and the Jewish Leadership Council met with Martin Ivens, the acting editor of the newspaper and, before very long, an abject apology was issued.
The apology, although I am convinced was genuine, was a little ambiguous:
"I'm grateful so many community leaders could come together at such short notice. You will know that the Sunday Times abhors anti-Semitism and would never set out to cause offence to the Jewish people – or any other ethnic or religious group. That was not the intention last Sunday. Everyone knows that Gerald Scarfe is consistently brutal and bloody in his depictions, but last weekend – by his own admission – he crossed a line. The timing – on Holocaust Memorial Day – was inexcusable. The associations on this occasion were grotesque and on behalf of the paper I'd like to apologise unreservedly for the offence we clearly caused. This was a terrible mistake."
He appears to be apologising for the timing of the cartoon. He believes this is what gave offence. This is, perhaps, even worse because it is saying: "Sorry for depicting Jews as murderous Nazis on Holocaust Memorial Day, we should have waited a week and depicted them as murderous Nazis next week".
Of course, it is not 'the Jews' being depicted, but Binyamin Netanyahu. Scarfe aimed his venom at him, not Jews generally. However, when you depict a Jew using anti-Semitic imagery, then your political point has gone beyond the person and extends to a whole people.
Scarfe also apologised saying he was unaware of the date the cartoon would appear and that he was ignorant of the Blood Libel. Never heard of it, he said.
This is what I wrote to local community leaders in an email last week which I have edited here to avoid repetition:
Scarfe's response is interesting. Although I find it hard to believe that he is unaware of the blood libel I am inclined to believe him. I've never seen Scarfe as an anti-Semite or even anti Israel.

The interesting bit is that he is a well-educated man in his 70's and he has never seen anything about the blood libel or understands Jewish sensitivity to blood (his apology was for the timing not content. Perhaps prompted by Ivens).

Yet his image so closely recalls and even references images from the 30's and 40's that he must, somehow, have subliminally stored away these images and inadvertently reproduced their tone right down to the demonic look and the dripping sharp instrument.

There must have been studies of how the Jew in European culture plugs in to folk memory. Many German cartoons were folklorish in nature. The Jew as a character from Grimm's fairytales. This is how, I believe, someone like Scarfe can blithely reproduce anti-Semitic imagery whilst remaining, apparently, un-anti-Semitic.

….

I think we were right to object and the apology, although missing the point a little, is well-received. I shall be buying the ST again, but maybe not this weekend – maybe I'll check the Scarfe cartoon first.
I should also note that there was much debate in the Jewish community in the UK and in Israel, Ha'aretz reporter Anshel Pfeffer denied it was anti-Semitic.
The reaction from Israel haters and an assembly of pro-Palestinian groups was also instructive. They generally missed the point accusing the Jewish Lobby of playing the anti-Semitism card to close down debate. They supported Scarfe and David Ward saying they were brave or righteous to point out Israel's ethnic cleansing, genocide etc.
Others could not see the relation to Nazi imagery. Usually these people were not Jewish and did not have Jewish sensitivities. They not only could not experience my gut feeling – and I trust my gut when it comes to anti-Semitism – but they also missed the important point that not one member of the Jewish community said the cartoon should not be published or that criticism of Israel or its politicians in political cartoons was inadmissible.
It's not the first time Israel supporters have cried 'anti-Semitic'. Steve Bell of the Guardian also came in for heavy criticism.
Yes, cartoonists have the right to offend. Often that offence is deliberate and aimed at politicians at home and abroad. Judging the fairness of the image depends on your politics. It also depends on your experience. If you inhabit my world where Israel is being vilified disproportionately, where Israel is subject to obsessive UN criticism, where Jews and Judaism are under attack daily across Europe, then your skin's thickness is subject to a thinning process to the point where if you prick us, we certainly do bleed.
The best thing I can say about this cartoon was the reaction of the Jewish community. It was in part over the top hysterical, as is often the case with certain elements of the community who will jump in and on anything vaguely anti-Semitic that moves. The leadership, though, did the right thing; they expressed dismay whilst expressing the right to publish and to free speech.
No-one died as a result of this cartoon. There were no demos across London or the world calling for Scarfe to be killed. No-one burned down the Sunday Times offices. Scarfe can sleep safe in his bed at night. He does not have to skulk from safe house to safe house with a police armed guard. No embassies were attacked or diplomats killed.
Cartoonists and journalists should be aware of  the sensitivities of all communities. This does not change their right to say and depict as they wish within the law.
I'll be buying the Sunday Times next week. This week, I'll register my own personal protest and deprive them of my £2.50.