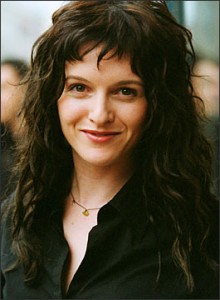 The BBC genealogical series 'Who Do You Think You Are?' has always been a favourite of mine.
As someone interested in my own family history and the many twists and turns it can take and also being fascinated in the detective work that discovers surprising facts about celebrities' roots, I am a devoted fan of this programme.
Yesterday the celebrity in question was Dublin-born actress, Dervla Kirwan.
Looking at her (which is a pleasant task) and listening to her, you would suspect a long line of Catholic Irish ancestry.
And this is what we got – almost.
Having discovered she is the great-niece of Michael Collins, Irish patriot, founder of the original IRA, Dervla's search moved to her father's side of the family and the casual revelation that she had a Jewish ancestor.
In fact, it was her paternal great-grandfather, one Henry Kahn, a Polish Jew who fled the Russian Empire in the late 19th century and set himself up as a tobacconist and a sometime illegal bookmaker.
He also happened to marry a Catholic in a Church of Ireland (Protestant) church, which was some going for the 1890's.
In 1902, we discovered, he was arrested for breaking the shop window of one Esther Marks and destroying in the process some 'china ornaments' and 'assorted bric-a-brac'.
It appears that Henry was a bit of a character and possibly a somewhat unsavoury one at that.
But what happened next was very instructive; he was tried by a jury in Dublin and found guilty and sentenced to one year's hard labour, which, for a man in his mid forties, was a terrible sentence.
Our attention was drawn to a newspaper article of 1902 which reports the sentencing and which makes sure we all know that the man in the dock was a Jew.
The judge, or Recorder, was Sir Frederick Falkiner, who had this to say in his summing up after stating that Henry deserved a whipping for one of the worst offences he had seen, or words to that effect. He broke a window and some china, if you recall:
You are a specimen of your nation and your race that cause you to be hunted out of every country.
On reading this, Dervla's jaw dropped and subsequent enquiry revealed that Falkiner was then 71 years old, had wrongfully instructed the jury as to the verdict and also denied Henry the right to speak before sentencing.
Apparently, this patent anti-Semitism was a little out-of-date even in 1902, and the Jewish Chronicle took up the case and eventually Falkiner was shamed in the House of Commons by the MP for Stepney.
Marvellous to relate, James Joyce echoed this case in Ulysses (which happens to be my favourite book) in Leopold Bloom's dream which takes place in front of the very same judge.
Genealogy certainly has the power to link disparate elements of our culture.
But don't you see the echo of the Bathurst-Norman case where an elderly judge was brought out of retirement and dismissed the case against activists who trashed an arms factory in Brighton during Operation Cast Lead because it was supplying armaments to Israel.
In his summing up Bathurst-Norman directed the jury to acquit the accused on the grounds that although they were self-confessed criminals, they did what they did to prevent even more Israeli 'war crimes'.
So over 100 years later English (Ireland was subject to English law at the time, let's leave the Scots out of this, they have a different legal system) justice finds that Jews are a special case to be made an example of or to be subject to vilification in an English court of law.
In 1902, a petty crime committed by a Jew receives a heavy sentence (albeit he was reprieved after 6 months), in 2010 those with an animus against Jews defending themselves from murderous anti-Semites (Hamas) get off scot-free because jew-baiting is now a sanctioned pastime once again in England.
All this and the debate, today, about what President Peres of Israel said or didn't say, meant or didn't mean, in an interview with Benny Morris, where he may or may not have said that the English (read British) are anti-Semitic.
For a taste of the Peres controversy see No-win journalism and its comments in Melanie Phillips' blog in the Spectator.
It appears that British anti-Semitism runs deep in certain sections of the English Establishment; so deep, that even after 100 years or more it can still resurface like a recessive gene to produce horrible mutations like Bathurst-Norman.
This is not to say that I believe Britain to be anti-Semitic in the 21st century, but it is certainly there lurking and mutating into different forms like anti-Zionism or anti-Israelism which often, but by no means always, are mere fig-leaves for anti-Semitism.
And poor Henry Kahn? He ended up in a lunatic asylum where he died four years after his release from prison. Isn't it instructive how, in 1902, a judge could tell the court that Jews had been hunted out of every country they had ever been in.
Who do we think we are? Where do you think we should go? Well, in 1902, the Jews were buying land in Ottoman Palestine and laying the foundations for a Jewish homeland where they would be free of Falkiners and Bathurst-Normans and where they would not be 'hunted out' ever again.
They called themselves Zionists.