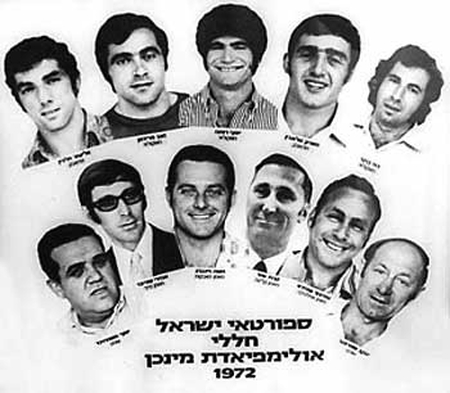 In the 1970's Black September hijacked aircraft and blew them up.
In the 21st century their successors in the form of the Palestinian Authority/Fatah has hijacked the memory of the 11 Israeli athletes murdered in 1972.
Despite the support of many people and organisations the IOC has cravenly demurred from just one minute of silence to remember 11 dead Olympians who came to Munich in 1972 to celebrate the true meaning of the Olympic ideal: that is, for the youth of the world to gather in peace and harmony, where national rivalries and disputes and hatreds are put aside and to compete in a celebration of youth, the human spirit and global fraternity.
That spirit was cruelly murdered by a disgusting bunch of terrorists who then, as now, represented a movement that has no regard for human life or dignity, especially if that life is Israeli and, more specifically, Jewish.
Just 27 years after the end of the Holocaust, Palestinians whose Grand Mufti had been an inspiration to Hitler and who promised to help him wipe out Jews in Palestine, with total disregard for the Olympic ideal, held hostage and then killed Israeli athletes and coaches.
The intention was to kidnap and hold hostage in order to force the Israelis to release more than 200 prisoners and the Germans to release the  leaders of the notorious Baader-Meinhof  'Red Army faction'.
The terrorists who survived were later released as a result of the hijacking of a Lufthansa aircraft in 1977 by the Popular Front for the Liberation of Palestine, another Fatah group closely associated to today's Palestinian Authority leaders including Mahmoud Abbas who it is claimed funded the massacre 40 years ago.
So how fitting is it, then, that that same Abbas should endorse a thank you letter, a billet-doux to Jacques Rogge, President of the IOC for not holding a 'racist minute of silence'.
Palestinian Media Watch reports:
The Palestinian Authority is against the moment of silence at the Olympics to commemorate the Israeli athletes murdered at the Munich Olympics in 1972. According to the headline in the official PA daily, "Sports are meant for peace, not for racism."

According to Jibril Rajoub, President of the Palestinian Olympic Committee:

"Sports are meant for peace, not for racism… Sports are a bridge to love, interconnection, and spreading of peace among nations; it must not be a cause of division and spreading of racism between them [nations]."

[Al-Hayat Al-Jadida, July 25, 2012]

These words appeared in a letter sent by Rajoub to the President of the International Olympic Committee, Jacques Rogge. The letter "expressed appreciation for [Rogge's] position, who opposed the Israeli position, which demanded a moment's silence at the opening ceremony of the Olympic Games in London."
How can anything be more obscene, more morally repugnant, more of an inversion of all norms of civilised behaviour than actually calling it a racist act for the world to commemorate the killings of Jews by racists.
The real reason the PA does not want the Minute of Silence is that they actually applaud and revere the terrorists who committed the act. They are national heroes.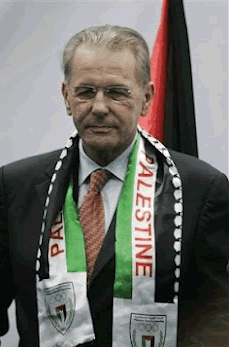 How can there ever be peace and reconciliation with people who hold such vile views. Better to shut up. Instead they actually congratulate the IOC in their brazen dirt-rubbing, self-satisfied, vainglorious smugness.
Why congratulate? Because this actually is the act of hijack; it says 'look world, what we did is OK because the IOC are on our side. The Jews can go to hell. Those murders were a victory. You don't cry over dead Jews'.
So Rogge and his cowardly Olympic cabal are now complicit in that massacre by association. It's not good enough that he held his miserable minute of silence in front of 50 people at the signing of the Olympic Truce. Some Truce. Some chutzpah!
Despite this, earlier today, the Zionist Federation held a 15 minute ceremony which was webcast and attracted much attention on Twitter. Last week an initiative in Hackney brought the Mayor of London and several dignitaries to the Arthaus for a moving ceremony and unveiling of a plaque.
40 years later, little has changed. Israeli Jews are still murdered in Europe; Burgas last week being a case in point. But in those years Israel has moved in world public perception from plucky little David, a victim, to a perpetrator who can hardly be surprised when it is attacked for its 'crimes'.  That crime is the crime of existence.
Let's hope the Olympics are a great success. But don't be fooled. The Palestinian team is there to further its attempt to be recognised without negotiation. It's there not because it cares for its athletes or the Olympic ideal; it's just another means to further its political objectives, delegitimise Israel and demonise Jews.