I quite like former Deputy Prime Minister, John Prescott.
Here's a man, by no means perfect, like all of us, but a man who, from humble origins rose to be Deputy Prime Minister.
I respect his lifelong battle for social justice and to better the lives of working people.
Yes, I know about 2-Jags, his affair, his hatred of eggs, especially when aimed at his head.
But there is something to admire in his pugnacity. He's an old-style socialist and it shows.
His piece in The Daily Mirror today, 'Israel's bombardment of Gaza is a war crime – and it must end', where he weighs in on the conflict on Gaza, is ignorant and provocative because of its ignorance.
And I am not alone in this view because, at the end of the article is a chance to vote if you agree or not, and all day the 'No' vote has been over 80%.
So let's see what he has to say:
Imagine a country claiming the lives of nearly three times as many as were lost in the MH17 plane tragedy in less than three weeks.
Hey, John, heard about Syria? heard about the 170,000 deaths there and millions as refugees? Heard that in one day Assad kills more than in those three weeks?
Of course, comparing a greater evil does not excuse a lesser, but one wonders whether he wrote anything about Syria yet. So let's check.
Well, I found this: http://www.huffingtonpost.co.uk/2013/09/06/tony-blair-wrong-on-syria_n_3879904.html where he agrees with his party leader Ed Miliband that military intervention in Syria is wrong. So, you might say, his distaste for toppling dictators has allowed Assad free rein to murder thousands of Palestinians, for example, in Yarmouk.
Difficult one, isn't it John? Tony Blair was wrong on Iraq, he says, so Ed must be right on Syria.
Yet, I have not found that he has ever written about war crimes in Syria or anywhere else. Why is that?
A nation which blasted a hospital, shelled and killed children from a gunboat as they played football on the beach and was responsible for 1,000 deaths, at least 165 of them children, in just two weeks.
The death of those boys is horrifying.
There are no excuses.
Accidents happen in war – I know that's easy to say when innocent life is lost. Yet, those boys were playing near an area where Hamas had been firing at the Israelis. What parent would allow his kids to be playing in a war zone in an area where Hamas were known to have been located. In those circumstances tragedy can happen.
Is Prescott suggesting it was deliberate?  Did the British never kill children in Afghanistan or Iraq? Does John know that 160 children died building Hamas's terror tunnels by Hamas's own admission. Does he care about that deliberate abuse of the children? Does he worry about the hundreds of kids, even babies, dressed in Hamas combat uniforms, toting weapons? Did he see the video of a father showing a kid how to fire a rocket launcher on a beach just like the one the four boys were killed on? What does John have to say about that?
Shelling a hospital? Which hospital is he talking about? Hamas fire from hospitals, store weapons in hospitals, conduct their operations from hospitals. All war crimes. Did John hear the recording of a phone call to someone associated with the Wafa hospital asking time and again if there were any patients in that hospital because Israel wanted to return fire coming from that building but, under international law, could not do so unless the hospital were evacuated completely? When that confirmation was given, the building was attacked. Not before. Does John even wonder why they would do that? Does he know it was being used as a command centre?
Gaza lost a hospital because it lost its protected status when Hamas chose to use it to fire at its enemy.
The Shifa hospital was also struck. Israeli images showed that 4 rockets had been fired from behind the hospital; one was intercepted over Ashkelon, one landed on or near the hospital, one fell out to sea and one also fell short in northern Gaza. In fact, 10% of all rockets fired from Gaza fall short. We do not know what damage they do or who they kill because Hamas are quick to clear up their own mess and we now know that thanks to Italian reporter Gabriele Barbati: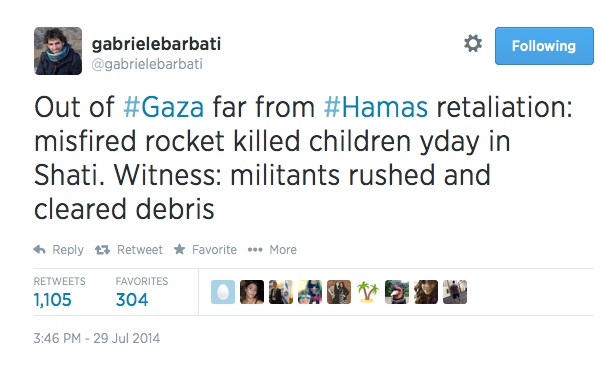 Let's just read that again. 'Out of Gaza far from Hamas retaliation. In other words, Hamas are intimidating journos in Gaza and hiding their crimes and the deaths they themselves cause. Yet, people like John Prescott are all too willing to attribute every death, every explosion to Israel, as if the other side wasn't firing at all.
Surely it would be branded a pariah state, condemned by the United Nations, the US and the UK. The calls for regime change would be ­deafening.
An outrageous and calumnious statement full of moral equivalence and moral bankruptcy.
'Regime change'? Is he suggesting Israel is a dictatorship like Iraq? The only democratic country in the Middle East, with a world-renowned independent judiciary, freedom of the press, full rights for all its citizens, freedom of religion? Is he serious?
Israel, a pariah state for defending itself against an Islamo-fascist murderous regime that deliberately uses its own people as political cannon fodder? How dare he suggest Israel can be a pariah state and not Iran or Syria or any number of oppressive regimes funding murder, intolerance, oppression of women and gays?
Israel's hawkish Prime Minister Benjamin Netanyahu trots out the same excuses. Hamas "militants" in Gaza fired their rockets first. Israel has a right to defend itself. It needs to protect its citizens.
Excuses? Here's a man who is not keen on a swift retaliation against an aggressor? Think again.
Err.. that was just a little egg, John, not 2000 rockets with high-explosives. And these are 'excuses'?
And he's right on all three counts – but as always with Israel this is not the full story. The military action supposedly targeting Hamas is so brutally disproportionate and so grossly indiscriminate that it makes it impossible not to view Israel's actions as war crimes.
Does it? Who says? That's opinion. Accusing anyone or any state of war crimes is a serious accusation. You need evidence, legal opinions, full investigations and, in Israel's case, a ready kangaroo court to jump to conclusions. John needs to look up the laws of proportionality. He also needs to understand that this is asymmetric warfare with an enemy that fires indiscriminately at civilians (war crime) from urban areas (war crime) and then hides underground.
Indiscriminate. 1100 deaths, at least 40% combatants, in over 2000 separate attacks. That doesn't sound indiscriminate. Warning people and evacuating them (where can they go!? You'd rather they die?) is not indiscriminate. Making phone calls, dropping leaflets is not indiscriminate. What is indiscriminate are the Hamas rockets, especially those dozens that fall short and kill their own people. But even that is a victory because journalists are not allowed to film it so they can blame Israel, and everyone complies nicely – or else!
When you are fighting an enemy that simply wants to murder you and your children, says so repeatedly, and proves its intentions with bombs, mortars, suicide attacks, missiles – what would you do to protect yourself and your family and how would you fight? Just think about it. Are you a military expert? Do you understand how Hamas operates? Really? Do you know that it actually wants people to die so that YOU are shocked because YOU have moral scruples and human empathy, but THEY do not.
THEY intimidate journalists, murder collaborators and drag them through the street; they kill people who simply protest against them. They are evil monsters. YOU try dealing with them without harming a lot of innocents.
 Those who live in Gaza are kept like prisoners behind walls and fences, unable to escape the bombings, and an Israeli economic blockade has forced Palestinians into poverty.
Well, Egypt frequently closes its Rafah crossing and has a border with Gaza where not a lot gets through. Why don't you mention that. On the other hand Israel does the following:
Cogat report just for today when there's a bloody war going on: http://www.cogat.idf.il/901-11564-en/Cogat.aspx
Israel provides, directly or indirectly, all Gaza's electricity – and Gaza does not pay for it.
Thousands of Gazans are treating free in Israeli hospitals.
In fact, there is no siege. But there is a maritime blockade because Iran and others send the rockets and weaponry Hamas uses, and would send much more if ships were allowed to dock unchallenged. Can you imagine what they would send? There is a relatively small list of restricted goods which can be used for building Hamas terror infrastructure. This does not include any food items.
Meanwhile, Israel has allowed in, under international pressure, the very concrete used to produce terror tunnels.
Israel's Iron Dome defence system easily intercepts missiles launched from Gaza. Three Israeli citizens have died from these ­primitive rockets, with 32 soldiers killed fighting Hamas.
This is the usual argument of a Hamas apologist. They are primitive. Really? Grad and Fajr rockets are primitive? So primitive they can close an airport? And the 'home-made' ones may be unsophisticated, but they still can kill. Is John saying that Israel's actions would be justified if more Israelis were killed? Is Israel to blame that it defends its citizens whilst there are no bomb shelters in Gaza, but an extensive network of tunnels used to murder Israelis, not to protect Gazans.
Britain just allowed the Luftwaffe to bomb it, to send V1's and V2's without response, did it John? Does Dresden ring any bells?
Compare that to the toll in Gaza. Of the 1,000-plus to die, more than 80 per cent were ­civilians, mostly women and children.
See above for the 'fair-play' idea of warfare. In war you want your people to live, unless you are Hamas. As for the lie about 'mostly women and children' no-one has managed to find a dead terrorist yet. But Al Jazeera has. Look at this from Elder of Ziyon. It demonstrates that the demographic of deaths clearly indicates that the claim most are civilians is not just false but an utter distortion. And bear in mind that Hamas uses suicide bombers as young as 14.
Israel brands them terrorists but it is acting as judge, jury and ­executioner in the ­concentration camp that is Gaza
Wow, John. No terrorists in Gaza then. But using the term 'Concentration Camp', a clear reference to the Holocaust is beneath him. Yet it is a common image used by 'critics" of Israel who want a genocidal, pathological, fascist regime to have free access to Israel – and Egypt – import what it chooses and to bring death and destruction to Israel.
Well, Jews actually are well aware of what a concentration camp or a death-camp is and we don't need lessons from Prezza. Because if he has his way and allows the harmless Hamas regime with its fireworks free rein, there really would be concentration camps, and it would be Israeli Jews that would be in them. Prescott's apologia for a terror organisation is disgusting.
And Israel flouts international law by continuing to build illegal Jewish settlements. Why? Because it knows it can get away with it.
What has that got to do with Gaza? it's a whole different question. Hamas is not about settlements or blockades, it's about genocide of the Jewish people – read their charter John.
What happened to the Jewish people at the hands of the Nazis is appalling. But you would think those atrocities would give Israelis a unique sense of perspective and empathy with the victims of a ghetto.
I'm puking my guts that John would use this well-worn and outrageous comparison between Israel's actions and the those of the Nazis. This is actually antisemitic by the definition approved by the European Union Agency for Fundamental Rights (FRA) :
'Drawing comparisons of contemporary Israeli policy to that of the Nazis.'
I don't believe he is antisemitic, but this is shameful and ignorant.
Hamas is wrong to continue its rocket attacks and must ­recognise ­Israel's right to exist.
That's the problem, John. They never will and it's that little factlet on which every argument against Israel's actions ultimately fail.
But as Channel 4's Jon Snow said this week: "If you strangle a people, deny them supply for years, extreme reaction is inevitable.
Firstly, they are 'strangled' due to their own actions and those of their government. They have adequate supplies. Did you ever see a starving person on all the videos in Gaza? And they seem to have plenty of supplies of guns and mortars and anti-tank rounds and thousands of missiles. And when they do get building materials, they build tunnels. Hardly Israel's fault.
'Extreme reaction is inevitable'. NO IT IS NOT. The extreme reaction was Hamas turning Gaza into an armed camp after Israel abandoned the territory in 2005. There were no blockades or sieges then. It was Hamas's firing of rockets and using Gaza as a proxy base for Iran to attack Israel that led to subsequent events and wars. FACT.
Is it not truly 'disproportionate' to want to exterminate every Jew with missiles and guns? The usual causal inversion and moral blindness is alive and well. Someone threw an egg at Prezza and he tried to flatten him. He didn't try to flatten him first, and then the guy threw the egg. But in the world of Israel-bashing, the right hook came first, and then the egg.
This is the fundamental conflation of two sets of circumstances: sympathy for the plight of Palestinians, especially in Gaza, and the fact that Hamas is governing them.
No one with an ounce of humanity could feel anything but horror at what is happening and what has happened before. It's heart-breaking. But it is the responsibility for that plight that is the issue, and the responsibility for the necessity for Israel to protect itself and bring quiet and security to its citizens that is always ignored. Oh yes, politicians and Hamas terror apologists always add that qualifier to show they are being 'fair' to Israel, but they expect them to do so with hands tied behind their back.
Nevertheless, there is always justification in questioning the military tactics of Israel. Israelis do it. Frequently. They demonstrate against it. Gazans do not have that privilege.
It's very easy to empathise with the people of Gaza. It's very easy to see Israel as the bad guy and not the terrorists because, not only do they physically hide behind their population, they give YOU an excuse to ignore and hide their crimes because YOU are too busy being morally outraged by what you see and hear and are fed, by proxy, by Hamas itself.
The question remains: what would you do and how would you do it? And don't say 'negotiate' because Hamas will not. Don't say 'lift the blockade' because that is just an excuse and a ploy.
It's very simple. Get rid of Hamas and the problem goes away. Stop hating Jews and the problem goes away. Stop firing rockets and trying to kill and kidnap, the problem goes away.
Shame is, a lot of people believe exactly what Prezza believes. But not the readers of this opinion piece though, according to the vote.
** Latest – vote has now swung in favour. I guess it was too good to be true.