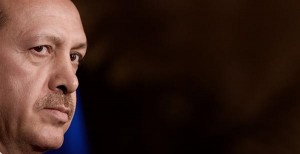 Brilliant article at the IPT website wherer an American-Turkish citizen wipes the floor with Turkish Prime Minister Recep Tayyip Erdogan.
Congratulations, Mr. Prime Minister.  You have accomplished in eight years what no other contemporary Turkish politician could achieve. You have successfully entered the final stages in your efforts to transform Atatürk's Turkey into an Arab-style Islamist dictatorship. Some people had warned the world 20 years ago about the likely Islamist outcome of the September 12, 1980 military coup—a momentous point in Turkey's history that "masterfully crushed" the Turkish left. They were right. You are here. Today.

How proud you must feel. After all your hard work, some of the Islamist Turks that you encouraged to sail to Gaza have been killed by the Israeli Defense Forces. You and your fellow Islamists have been celebrating this like nothing I can recall. You have immediately declared them as şehitler (shuheda, the martyrs). With this Arab-style "martyrdom" discourse, you have surely strengthened your image in the entire Arab world and among the Ahmadinejad followers in Iran. Not surprisingly, you have even managed to nourish most of your citizens' anti-Jewish and anti-American sentiments. Your fellow Turkish Islamists, the great majority of the Turkish liberals, and, unfortunately, the many manipulated but otherwise ordinary, beautiful, innocent Muslims joined you and your not-so-strategically-deep brothers.
Erdogan is painted as a demagogue vying to be the leader of the Muslim world, intoxicated by his successes in turning the only Muslim democracy towards Islamism and, at the same time, turning on one of its best friends, Israel.