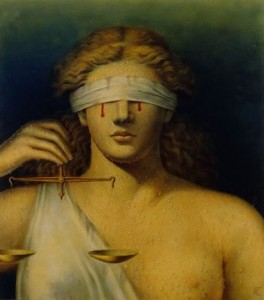 The full text of 'Judge' Bathurst-Norman's summing up to the jury in the now infamous court case has been obtained by Jonathan Hoffman of the Zionist Federation.
If you recall the court case in Brighton was brought by EDO against a group of protestors who had broken in to their plant and caused £187,000 worth of damage. The excuse for this criminal act was that they were exporting arms to Israel during Operation Cast Lead.
The plaintiffs pleaded guilty but were acquitted by the jury because, presumably, they bought in to the judge's direction which blatantly biased the jury towards their conclusion and so justified a crime with the defence that it was due to Israel's actions in Gaza that the crime was committed.
Hoffman's tale of this summing-up and his demolition of the said judge can be found on CiF Watch here.
Please read this brilliant but disturbing analysis.
What does it say about the state of the English judicial system?
Whatever your views on Israel and Cast Lead, such political bias and egregious direction of a jury has no place in any democracy.
There are other questions arising about the choice of this particular judge and his track record which are disturbing.
Reference: UK: Judge Takes Delegitimisation of Israel to New Depths http://cifwatch.com/2010/07/03/uk-judge-takes-delegitimisation-of-israel-to-new-depths/ Hoffman's first volley against Bathurst-Norman