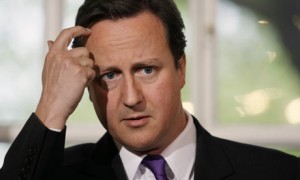 British Prime Minister, David Cameron, has completely lost it. He is campaigning for Turkey's entry into the European Union and thus for placing a growing Islamist country, that has strong ties with the enemies of the West, at the heart of Europe.
All this might have been acceptable in the past when Turkey was recognised as a secular Muslim country sitting between the West and the Islamic world, a democracy with a mixed Western and Eastern culture and an honest broker between the West and Islam.
But Cameron seems to have overlooked completely Turkish Prime Minister, Recep Tayyip Erdogan and his Islamist program.
At the same time that he shows little understanding of the threat posed to Europe by the regime of Erdogan, he attacks in an unwarranted, ill-informed and just plain ignorant way the EU's only real friend in the Middle East, and its only democracy, Israel, by declaring Gaza to be a 'Prison Camp'.
His speech in Turkey mirrored President Obama's in Cairo with its cringing agenda of appeasement instead of confronting Turkey with the manifold reasons as to not only why it should currently be shunned by the EU but also suspended from NATO, as I wrote earlier this year after the Turkish flotilla incident.
As the BBC reports:
Mr Cameron said he wanted to "pave the road" for Turkey to join the EU.
Maybe this road should be called the Islamic fundamentalist highway.
"When I think about what Turkey has done to defend Europe as a Nato ally, and what Turkey is doing today in Afghanistan, alongside our European allies, it makes me angry that your progress towards EU membership can be frustrated in the way it has been.
Yes, the old Turkey, the secular Muslim state with democratic values, not THIS Turkey.
"So we need Turkey's help now in making it clear to Iran just how serious we are about engaging fully with the international community,"
Cameron recognises that Erdogan has the ear of Iran's president Ahmadinejad, but for what purpose?
What has happened to the secular, democratic, Muslim state created by Kemal Attaturk and so lauded for decades as a blueprint of what a modern Islamic nation should look like, (despite many issues of human rights)?
A telling analysis by Andre Mozes reveals:
Before entering Turkish national politics, Erdogan served as Istanbul's mayor. In this colorful city… one learns to speak the languages of all; of moderate Muslims, of cosmopolitan and of Islamist Turks alike.  Erdogan learned them well, but in his deeds he always belonged to the third group.  In earlier Turkish elections fundamentalist Islamic parties were banned, according to the secular laws and tradition of Turkey, preserved successfully since Ataturk turned Turkey from a backward Muslim monarchy, into a progressive secular modern nation.

In the elections of 2002, however, Erdogan's Islamic party succeeded in changing its appearance – including by its beautiful name: Justice and Development Party (AKP) –  sufficiently to circumvent the ban. They won a convincing election victory, primarily in the less developed rural regions, where most votes were controlled by the local imams.  The army – the traditional watchdog of Ataturk's legacy – decided, after difficult arguments only, not to veto the election results, and so Recep Erdogan came to power.
Mr Cameron appears blissfully unaware of this history; the erosion of Attaturk's values by craft and deceit.
While praising Turkey's secular and democratic traditions, Mr Cameron stressed that Turkey must continue to push forward "aggressively" with economic and political reform to maintain momentum towards EU membership.
The only thing that Erdogan is aggressively pursuing is an alliance with radical left-wing regimes (Chavez in Venezuela), Islamists (Ahmadinejad in Iran) and dictators (Assad in Syria).
As the Guardian* reported in October last year with the headline "'Iran is our friend', says Turkish PM Recep Tayyip Erdogan":
Erdogan's partiality towards Ahmadinejad may surprise some in the west who see Turkey as a western-oriented democracy firmly grounded inside Nato. It has been a member of the alliance since 1952. It will be less surprising to Erdogan's secular domestic critics, who believe the prime minister's heart lies in the east and have long suspected his Islamist-rooted Justice and Development party (AKP) government of plotting to transform Turkey into a religious state resembling Iran.

Erdogan vigorously denies the latter charge, but to his critics he and Ahmadinejad are birds of a feather: devout religious conservatives from humble backgrounds who court popular support by talking the language of the street.
But all this came to a head in May with the infamous Freedom Flotilla incident in which the Israeli navy intercepted a flotilla attempting to break the blockade of the Gaza Strip, and, when boarding the lead ship, 'Mavi Marmara', were attacked. In the ensuing melee 9 'activists' were killed. An outraged Erdogan condemned Israel, demanded an apology, threatened to break relations, demanded a UN enquiry and made huge political capital of the incident.
This led to Erdogan's being lionised across the Islamic world; Israel' s best friend in the Near East, and the only Muslim country which had good relations with Israel, was distancing itself from the Zionists. The dictators and the terror groups were jubilant. Erdogan's star was in the ascendant in the Muslim world. He appeared to be bidding for leadership of that same world. But some believed he was over-reaching. Had he revealed his Islamist hand too soon?
It was only a little later that the facts came to light about the nature of the IHH, which organised the Freedom Flotilla, a humanitarian organisation with links to terror, including Al Qaeda.
A decidedly anti-Western and virulently anti-Israeli group took over the Mavi Marmara and announced that their aim was to reach Gaza or to die as martyrs. They then meticulously prepared a  reception for the Israeli commandos who rappelled on to the ship's decks to be met by lethal force. Subsequent Israeli investigations have revealed that all but one of the fatalities had 'form' which linked them to Hamas and Islamic terror groups. The IHH is an organisation formerly recognised and supported by the Turkish government. This links Erdogan's regime indirectly to anti-Western, and that includes anti-European groups. But nice Mr Cameron doesn't see that. All he can muster is, and I repeat:
Turkey must continue to push forward "aggressively" with economic and political reform
Mr Cameron has thus joined the legions of the politically blind. Blind to the fundamentalist threat which he responds to with:
"Those who wilfully misunderstand Islam, they see no difference between real Islam and the distorted version of the extremists. They think the problem is Islam itself. And they think the values of Islam can just never be compatible with the values of other religions, societies or cultures."
But it is Erdogan who is cavorting with these extremists and who is leading his country down the same path.
The Italians certainly know what the IHH is all about as MP Fiamma Nirenstein is seeking to outlaw the group in the very EU that Mr Cameron wants Turkey to join:
Dear friends,

I just presented a parliamentary question to the Italian Ministry of Foreign Affairs requiring to evaluate the possibility to insert the Turkish organization IHH ("Insani Yardim Vafki"), one of the main promoters of the Mavi Marmara and responsible for its violent implications, in the list of terrorist organizations of the European Union.

Several investigations and reports testify the involvement of IHH in global terrorism and many videos and documents attest its jihadist attitude finalized at "martyrdom in the name of Allah". Because of its connection to Hamas and the "Union of Good" (an Islamic umbrella organization affiliated with the Muslim Brotherhood that was put in the US' terror list in 2008), Germany has recently banned IHH and in the USA, a bipartisan group of Senators appealed to President Obama with a request to enter the IHH in the US' list of terrorist organizations.

You can read below the entire interrogation.
And here's the link http://fiammanirenstein.com/articoli.asp?Categoria=5&Id=2412
Is this the group we want a member country of the EU to be supporting, Mr Cameron?
But it is on the situation in Gaza that Cameron was at his egregious worst.
"Humanitarian goods and people must flow in both directions. Gaza can not and must not be allowed to remain a prison camp," he said.
As Stephen Pollard of the Jewish Chronicle amusingly points out:
What exactly are the humanitarian goods that will flow from Gaza to Israel and Egypt?
Will Cameron lobby President Mubarak of Egypt to open the Rafah crossing?
What humanitarian aid is NOT getting into Gaza?
All humanitarian aid has always been allowed through into Gaza; only the Egyptians have actually blocked aid both from Viva Palestina and, more recently, Jordan.
And Gaza doesn't need humanitarian aid any more. The shops are full. What it needs is rebuilding and jobs. But what is holding it back is the Islamist, anti-Semitic, Hamas regime which Erdogan actually supports. On the 6th April this year Mr Erdogan declared that Hamas is not a terrorist group. Mr Cameron should remember that the EU has designated Hamas a terrorist organisation. So why does Mr Cameron want to support a country which condones terror?
The Jerusalem Post reported Erdogan as saying:
"I do not think that Hamas is a terrorist organization. … They are Palestinians in resistance, fighting for their own land."
And that 'land' is, of course Israel which Hamas wants to call Palestine, from the river to the sea.
Is this Mr Cameron's idea of the type of leader Europe, and particularly Mr Cameron, should be embracing?
In his address Friday, he said the Ten Commandments should have deterred the soldiers from killing the nine passengers who died on board the ship. "If you do not understand it in Turkish I will say it in English: You shall not kill," he reportedly said – repeating the phrase in Hebrew.
But Mr Erdogan's forces kill Kurds almost daily in their fight for their own independent state. On June 20th 2010 the BBC reported :
Turkey has vowed to fight Kurdish rebels until they are "annihilated", after attacks killed 11 soldiers.

PM Recep Tayyip Erdogan said Saturday's "cowardly" assaults would not end Turkey's determination to fight the Kurdish Workers' Party (PKK) "to the end".
Is this the sort of hypocrite that Mr Cameron wants to fast-track into Europe? Imagine if Israel said this about Hamas.
Cameron seems to be stuck with the idea that Erdogan is an important link between Europe and the Islamic world, so he conveniently glosses over the Kurds, Northern Cyprus – which Turkey has occupied and populated with its nationals against International Law since 1974; he conveniently glides effortlessly over Erdogan's support for Hamas and, therefore, implicitly, the destruction of Israel.
Is this the Turkey which, as Mr Cameron says, is "vital for our economy, vital for our security and vital for our diplomacy"?
Mr Cameron's characterisation of Gaza as a prison-camp uses the overblown rhetoric of Israel's enemies not because Cameron believes it, but because it is politic and 'even-handed' just to throw it in there as a sop to his audience. He also forgets that the only real prisoner in Gaza is kidnapped soldier, Gilad Shalit, who has been in captivity, without access to the Red Cross, for four years, contrary to the Geneva Convention and the laws of conflict.
He is therefore willing to lie and twist the truth for diplomatic reasons. He really believes that risking an Islamist state in Europe, as well as NATO, is good for the UK's, the EU's and the West's security. He really believes that giving Israel a good kicking will, Obama-like, make the Islamic countries see him as fair and rush towards his outstretched hand?
They must be be rolling about in uncontrollable glee and laughter.
How is it that Conservative Cameron has caught the Obama appeasement bug without realising it. Too much kissy-kissy in the White House, perhaps.
Like the previous government, Cameron is strong on diplomacy and weak on statesmanship; like those who have gone before him he is prepared to be Abraham to Israel's Isaac and hope that someone shows up with a ram before he has to do the dirty deed.
And what of the euro-sceptics in the Conservative Party? Indeed, what of Cameron's own scepticism on Europe? The same David Cameron who wants a referendum on the Lisbon Treaty. Why should his party europhobes agree to an expansion of the EU they wish to dismantle?
Or is this Con-Dem Frankenstein's monster of a government just lurching about calling out "Friend, friend" in the desperate hope it can find one, even if he's an Islamist in a sharp suit with an even sharper knife tucked behind his back?
*http://www.guardian.co.uk/world/2009/oct/26/turkey-iran1