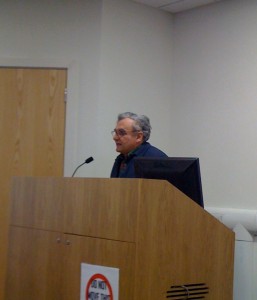 I have to share with you an inspiring story (How to win over a hijab-wearing student)
from The Point of No Return blog which is dedicated to information about Jewish refugees from Arab lands.
Michelle Huberman screened 'Forgotten Refugees, a film about the plight of mizrachi Jews and Arab anti-Semitism.
During he course of the screening of the film to a hostile audience at the SOAS (School of Oriental and African Studies) in London, and after a question and answer session with  Matti Haroun, the audience clearly understood that there was an issue here that they hadn't previously confronted.
A Pakistani girl in full hijab was the one most interested in the film. In the end she and a few of the students asked for more information and a copy. Michelle gave away half-a-dozen copies, plus some fact sheets.
Well done Michelle and Matti – brave and inspiring. Please read it all.