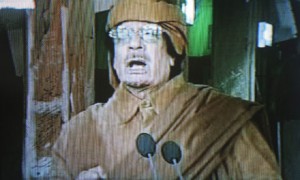 …. apparently.
Last week I accused the UNHRC of double-standards for not calling for an enquiry into Gadaffi's attack on his own citizens.
Today, at last, they have listened to me.
See the UN News centre report here.
The United Nations Human Rights Council today strongly condemned the recent violence in Libya and ordered an international inquiry into alleged abuses, while also recommending that the country's membership in the UN's top human rights body be suspended.
I'm sure Judge Richard Goldstone is packing his bags for Tripoli as I write. He can be joined by Hosni Mubarak who needs the work.
The question here is not why Libya has been suspended from the UNHRC but why it was ever elected.
The UNHRC seems to have been embarrassed into this as 2000 people at least have been killed and the vast majority of these are civilians. If Israel is condemned for disproportionate behaviour when1300 are killed, mostly combatants, then the UNHRC has to act to protect its ability to continue with its obsession with Israel in the future by showing it can still spot a despot when it sees one – eventually.
Gadaffi is so bad that even other despots in the region have disowned him.
You could say that Gadaffi is giving despots, tyrants and dictators a bad name. Some achievement.